A translated course in the basics of the animation industry This course After Effects CC: 2D Character Animation – Puppet & Rig is a unique course for learning 2D animation methods and techniques (Cartoon or Photographic).
It's all about moving the character or manipulating the graphics. It is a course provided by a professional trainer Louay Zambarakji presented in English, but do not worry, we have worked on translating it into Arabic to be more useful for those wishing to learn.
You can also download دورة After Effects cc تعلم الرسومات المتحركة بسهولة From the beginning
Description of this course After Effects CC: 2D Character Animation – Puppet & Rig
This course is the best-selling and highest-rated, with more than 23,000 students. This is a unique course for learning two-dimensional animation methods and techniques (cartoon or photographic). It's all about moving the character or manipulating the graphics. You'll learn and master the concepts and tools you'll need to create complete 2D animations in After Effects CC.
What will you learn?
You'll learn to create 2D character animations in After Effects using the two techniques most important to anyone who wants to work in After Effects. In this 2D Character Animation Puppet & Rig Course you will master the Pin tool and pair it with manipulation to create exciting animations.
Detailed explanation of the concept of animating puppets in After Effects Master the Pin tool Create pins at strategic points Discover how to use the Puppet Overlap Tool and create levels for your flat characters.
Explore the Puppet Starch and strengthen areas of your character. To work in After Effects, it is necessary to acquire skills in 2D graphics, learn animation techniques, and master the three basic tools and all the things that will make the character move smoothly.
You'll also learn how to use a professional equipping plugin for your puppet to create forward kinematics that gives you more control. We will explain how to manipulate shape layers and learn how to animate a complex shape.
You will then be able to animate any complex shape. With these basic techniques, it will be easy to animate a character whether it's a cartoon or a pictorial, and the animation is created
quickly.
Among other things that have been focused on explaining:
The Puppet Tool includes Puppet Pin and Mesh, How to Record an Animation with Motion Drawing for Puppet Pins, and Motion Drawing for Layers. You will also cover how to smooth animation and how to apply a wiggler effect to a Puppet Pin.
You will cover keyframing pins and creating simple and complex animations. In each character, certain areas will need to be strengthened and overlap with others, and you'll cover those two aspects very meticulously.
Manipulation is a method for linking layers in redirecting kinematics and locomotion from base to tip: this whole topic will be covered. More professionalism is covered and using an important Puppet Pins Equipping plugin is the last resource needed to become a professional 2D animator.
Who is this course for After Effects CC: 2D Character Animation – Puppet & Rig
This course is a course for beginners in my 3D Animation
By taking this course, you will understand 3D animation better.
Students who want to learn 2D animation in After Effects using simple techniques
Who would like to understand, use and master the concepts of puppetry and manipulation?
Students aspire to become animators and practice 2D animation concepts
Do not take this course if you have no idea about Adobe After Effects
Content for this course After Effects CC: 2D Character Animation – Puppet & Rig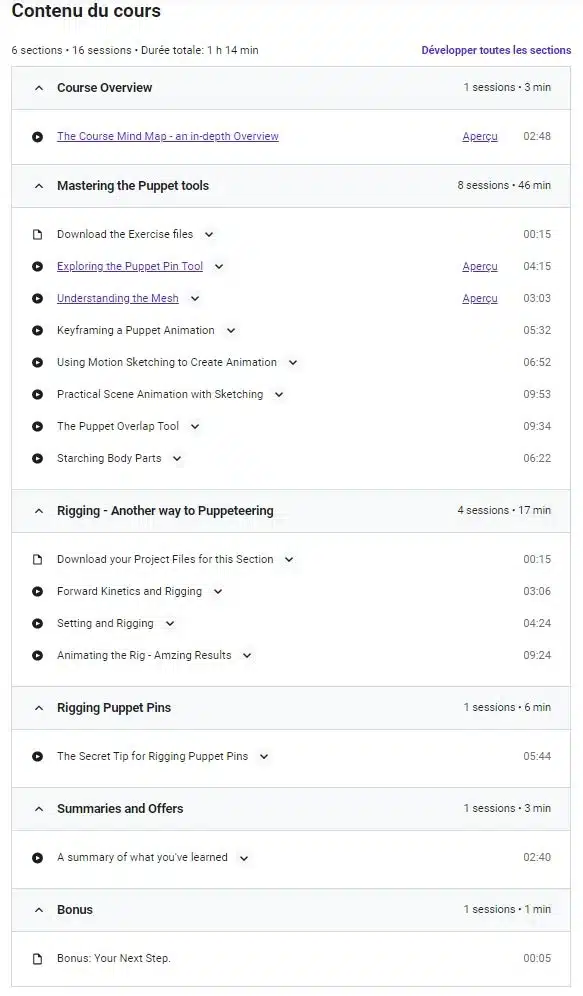 Details about this course After Effects CC: 2D Character Animation – Puppet & Rig
English language
Translation: Ar & En                                                                                                             
Duration: 1.14 hours
Number of lessons: 16 lessons
Full course size: 320 Mb
Training level: beginner to advanced
Coach: Louay Zambarakji
File Format: mp4
After Effects CC: 2D Character Animation – Puppet & Rig
uploading
Drive
Up4-ever