Enscape3D: Real-time Rendering and Virtual Reality Plugin for Architects and Designers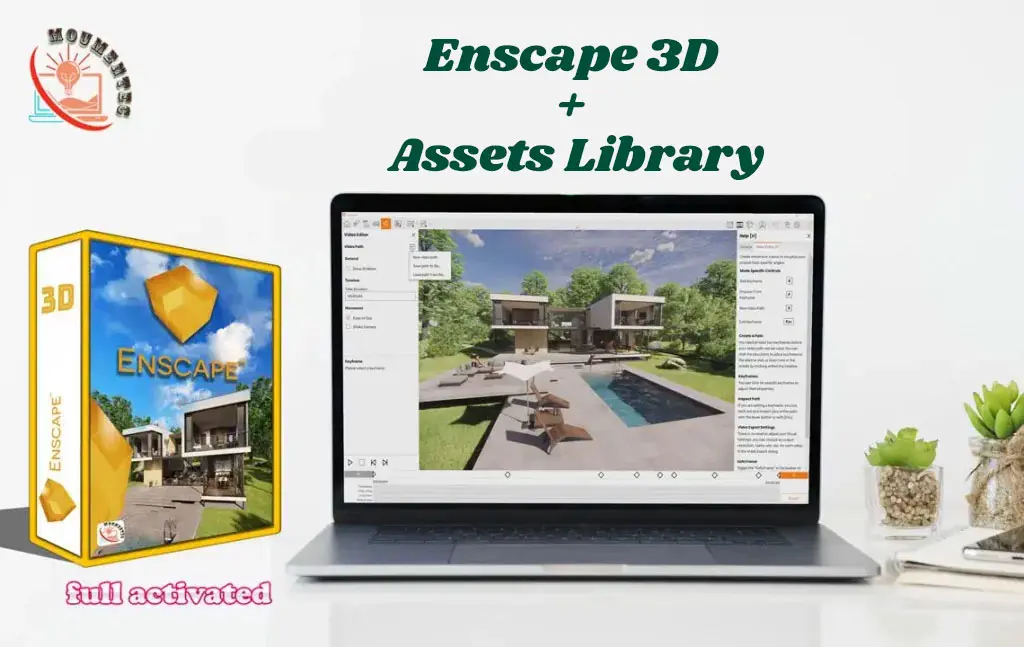 Enscape3D is a powerful real-time rendering and virtual reality plugin used by architects and designers. It enables professionals to visualize their 3D models in real-time and produce high-quality visualizations quickly and efficiently. In this article, we will provide an overview of Enscape3D and its features [1].
Real-time Rendering
Enscape3D allows architects and designers to produce real-time visualizations of their 3D models, making it easier to communicate design ideas to clients and stakeholders. With Enscape3D, users can instantly see changes in lighting, materials, and textures, allowing for quick and efficient design iterations [1].
Virtual Reality
Enscape3D also offers a virtual reality experience, allowing users to explore their 3D models in a fully immersive environment. With virtual reality, clients and stakeholders can experience designs in a way that was previously not possible, giving them a better understanding of the project.
Improved Material Editor
The latest version of Enscape3D comes with an improved material editor, making it quicker and easier to identify materials. The material list now includes a color and material type indicator, and there is a new self-illuminated material type. Additionally, there are new icons, controls, and map tabs for improved usability [2].
Compatibility with Various Software
Enscape3D is compatible with various software, including Revit, SketchUp, Rhino, Vectorworks, and Archicad. This compatibility ensures that architects and designers can use Enscape3D with their preferred software, allowing for seamless integration into their workflow.
Conclusion
Enscape3D is a powerful real-time rendering and virtual reality plugin that provides architects and designers with the ability to visualize their designs in a fully immersive environment. With its compatibility with various software and improved material editor, Enscape3D is an excellent tool for anyone looking to produce high-quality visualizations quickly and efficiently.
؟What's new in Enscape 3D👀
Some of the new features and updates that come with Enscape 3D's latest version include improved asset selection and functionality assessment for interior spaces [1]. With this feature, users can select from a range of assets such as home fixtures, appliances, accessories, and materials like wallpapers, wood, and tiles. This significantly reduces the time spent looking for materials online for your interior project, improving reflections and overall rendering quality.
Additionally, the latest version of Enscape 3D comes with over 210 new assets and 52 new materials, giving users even more options to choose from when designing their projects. Enscape also offers an improved organizational and structuring system for imported custom assets, allowing users to easily reproduce their desired image [2].
Overall, Enscape 3D's latest version offers users a range of new features and updates that enhance their experience with the plugin. From improved asset selection to a wider range of materials and assets, Enscape 3D continues to improve and enhance its capabilities as a leading visualization tool for architectural and interior design projects.
Features of Enscape 3D
The rendering quality of reflections has been improved (sharper during movement)
Integrated Minimap in the Virtual Reality menu
Smoother shadow transitions during time-lapse videos
Export uncompressed video for post-production
New materials in Revit and Revit 2019 are now supported
Proxies in SketchUp now reload automatically
TGA textures are now supported in SketchUp's material editor
Area lights are now available in SketchUp (Line, Rectangular, Disc)
Improved grass rendering
Transparent Textures are now supported in Rhino
Save Enscape views to Rhino
Enscape 3D system requirements and technical details
💻Operating systems: Windows 10, Windows 8 / 8.1, Windows 7
📀program that supports it: Revit (2018 ; 2019; 2020 ; 2021; 2022)، SketchUp (2018 ; 2019; 2020 ; 2021; 2022)، Rhino (6.0 ; 7.0) ، ArchiCAD (21 ; 22 ; 23 ; 24 ; 25) ،Vectorworks (2020 Service Pack 3 ; 2021 ، 2022)
💻 Recommended hardware: The minimum recommended requirement to run Enscape is an NVIDIA graphics card or AMD OpenGL 4.2 compliant with a minimum of 2GB of VRAM and the latest drivers available
Download link Enscape 3.5.4.119962 for Sketchup
For fast and uninterrupted downloading: please use the Download Manager program
Up-4ever
Mediafire
Download link Enscape 3.5.0.107264 for Sketchup
Download link Enscape 3D V.3.4.4.94564 for Sketchup
Assets Library
Or
One Drive
Follow Us